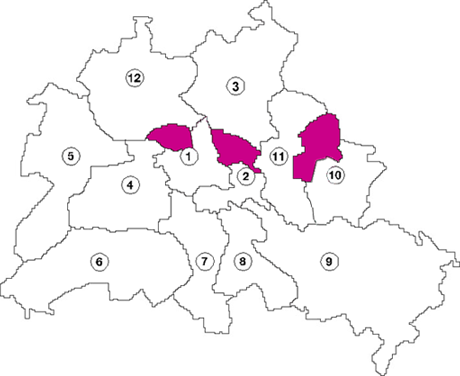 Berlin
1 Mitte (including Wedding)
2 Friedrichshain-Kreuzberg
3 Pankow (including Prenzlauer Berg)
4 Charlottenburg-Wilmersdorf
5 Spandau
6 Steglitz-Zehlendorf
7 Tempelhof-Schöneberg
8 Neukölln
9 Treptow-Köpenick
10 Marzahn-Hellersdorf (including Marzahn)
11 Lichtenberg
12 Reinickendorf







The different localities of Berlin form the background of kiezkieken. Different localities are chosen for each festival. In 2009, the festival was designed around the neighbourhoods Sonnenallee, Kottbusser Tor und Mediaspree. In 2011, kiezkieken is designed around the local districts Wedding, Prenzlauer Berg and Marzahn. These localities form an interesting constellation when considering their history and contrasts.